GOSPEL MUSIC NASHVILLE CELEBRATION VOL.1 DVD
Featuring FAMILY & FRIENDS
GAYLORD OPRYLAND RESORT

Gospel Music Nashville Celebration was a live televised event at the Gaylord Opryland Hotel and Convention Center in Nashville Tennessee. This celebration was filled with the best-loved voices in Southern and Bluegrass Gospel music. Those who attended this event also had the opportunity to attend GMA'S 41st Annual Dove Awards held at the legendary Grand Ole Opry House! This four-day Gospel music event included four days and nights in the luxurious Gaylord Opryland Hotel and Resort, five outstanding concerts, the SGMG Harmony Honors, and the GMA'S Dove Awards. This was one of Music City's premiere events!





Featured Artists were: The Oak Ridge Boys, Guy Penrod, Jason Crabb, Jeff & Sheri Easter, Isaacs, Bowling Family, Gold City, Kingsmen, Tribute Quartet, Karen Peck and New River, Gold City, Perrys, Blackwood Brothers, LeFevre Quartet, Palmetto State Quartet, Andrea Thomas, Karen Harding, John's Call, Crystal River, Boxcars, Aqua, many more!

Fresh Well Media and Family Friendly Entertainment Network invites you to experience the energy and excitement of a live television event in Music City on this DVD Vol.1!

For more information: www.freshwellmedia.com
1-800-898-7418 or 615-609-6777

TO PREVIEW THIS HISTORIC EVENT SCHEDULE CLICK THE GRAPHIC BELOW: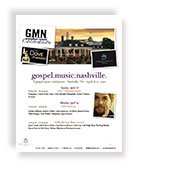 Gospel Music Nashville Celebration
April 18-20, 2010

**All concerts held in Delta A Ballroom

GMN Celebration Concert
Kingsmen, Crystal River, Aqua, Orvil Shindoll, Hemphills, Andrea Thomas & more

Showcase
Sundays Edition, Andrew Heller, Carla Elliott, 1AChord, Johnna Green, Wess Morgan, Pam Wiebie, Hemphills, Aqua & more
SGMG Harmony Honors Awards
Jason Crabb, Jeff & Sheri Easter, Guy Penrod, Perry's, Gold City, Oak Ridge Boys, Bowling Family, Karen Peck & New River, Tribute, Blackwood Brothers & more
Showcase
Aqua & more
Guest Speaker
Rev. James Larson (San Diego, CA)
Picking and Grinning
Larry Crane, Mountain Joy, Sharon Walker, Crawford Crossing, Southern Brothers, Shara McKee, Fresh Anointing & more
GMN Celebration Concert
Isaacs, Jeff & Sheri Easter, Bowling Family, The Boxcars, Palmetto State Quartet, Aqua, Lefevre Quartet, John's Call, 1AChord, Andrea Thomas & more
Guest Speaker
Dr. Jay Sekulow - Chief Counsel for the American Center for Law and Justice (ACLJ)