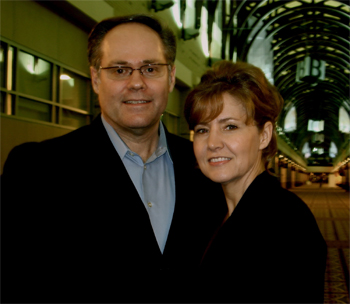 FRESH WELL MEDIA TEAM MEMBERS

PHILIP & DIANA THOMAS

President / CEO and Sr. Vice President

Fresh Well Media Inc. is a Nashville, Tennessee based 501-c (3) non-profit organization that specializes in the production and promotion of inspirational media.

Founders Philip and Diana Thomas have been involved in television ministry and production for over fifteen years. Together they have developed nationally syndicated television programs, launched a news broadcast network and have served as network directors of Gospel Music Television. In the music industry, they have personally recorded four Christian albums, established Spring Well Music Publishing and have received three prestigious Dove Award nominations for album, song and group of the year. Originally from Ft. Worth, Texas, they now reside in Nashville, Tennessee with their three children. Philip and Diana have also been happily married for 30 years.

With years of experience and proficient knowledge in the media industry, their goal is to impact today's society with positive media through its many digital devices. Like a living well, Philip and Diana work with their hearts forward and eyes up to refresh and rejuvenate viewers with fresh media.


JENNIFER THOMAS
Vice President of Legal Affairs

Directing legal affairs, Jennifer Thomas is a dynamic, powerful, and vital asset to Fresh Well Media. Raised in Texas, she came to Nashville with her family and graduated from Belmont University with a Communications major and a Business minor. Recruited by Jay Sekulow of the American Center for Law & Justice to attend Regent University of Law, Jennifer found her passion for the legal system during her first year. She now attends Nashville School of Law, where she will soon graduate and be connected to the inner sector of Nashville's entertainment and business industry. Through her affiliation with the American Center for Law & Justice, Jennifer's law practice and ideology will center on protecting religious freedoms. Ensuring that entertainers and other Christians are not denied a voice, the young Thomas is working tirelessly to lead a fresh new path for faith based law practice. On a personal note - she loves sunsets on the beach, puppies, and has a small addiction to Hershey's kisses (and the YMCA).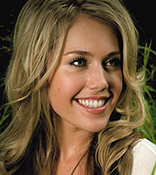 ANDREA THOMAS
Vice President of Marketing & Public Relations

As a sharp and ambitious marketing director, Andrea Thomas is the face of Fresh Well Media. With her warm and welcoming public relations, Andrea is an invaluable asset both on camera and in person. After moving to Nashville, Tennessee, she graduated from Belmont University with a Music Business Degree. Andrea's heart for making things perfect and working selflessly shows up in her clever marketing strategies and genuine commercials. Growing up in a media saturated family, she has become well acquainted with the multi-media entertainment industry in every facet. After performing on the Daystar Television Network for seven years, as a cast member on The Logan Show, and working as a creative director for the Family Friendly Entertainment Network (Gospel Music Television), she has grown to be well versed in media development and marketing. Andrea is also a Christian musician currently writing for her second independent record and leads worship at Christ Church in Nashville.

AARON THOMAS
Vice President of Development

Aaron Thomas: a diversely talented multimedia producer. Over the past 10 years, he has gained experience in nearly every aspect of video production from start to finish. He has worked with significant companies and exciting talent including Mercy Ministries, Barlow Girl, Jeremy Camp, Family Friendly Entertainment, Kix Brooks, American Country Countdown, Reba McEntire, Jeff Bridges, and many more. An Apple Certified Final Cut Pro editor, Aaron prides himself on maintaining the highest standards of quality in his work. As Vice President of Creative Development at Fresh Well Media, he utilizes not only his knowledge and creativity in video production but also ten years of sales and marketing experience. Further developing his sense of entrepreneurship, Aaron has developed his business mind for the last four years as a Tennessee State Realtor. In any avenue, Aaron expresses an innate knack for identifying and drawing forth the unique spark of an individual, business, property, or product. By enabling and encouraging clients to be creative, Thomas fuels the aforementioned spark in order to achieve optimal performance and realized potential. The magnification of ideas, thoughts, feelings, struggles, beauty and the voice of humanity is what brings Aaron joy in his work.


KATIE BANDAS
Creative Coordination

Katie Bandas is a unique and creative asset to the Fresh Well Media team. Her experience in many avenues of design is applied through production assistance, online media development, branding and graphics direction as well as advertising and marketing coordination. In a company filled with visionary minds, Katie often offers the voice of reason that encompasses the guidance of creative development. With precision and swift organization, Bandas is able to cut to the core of an eclectic idea and nurture it from concept to creation. A foundation to Fresh Well Media, Katie is pinnacle to meeting deadlines and ensuring a smooth and successful workflow.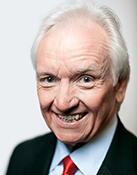 DAVID COOPER
Chairman of Advisory Board

David Cooper's remarkable ability to interact with folks just where they are, truly embracing positive regard and respect for all people has proven invaluable in the advising of Fresh Well Media. At an early age, he was known as "the little boy who preached" as he shared entire sermons. From his youth ministry days to now, David continues to value family relationships and particularly enjoys working with people to develop their potential and overcome obstacles to their sales success. Happily married and the father of four, David's integrity and family focused priorities are a living example of how one can succeed in business and prioritize the home front as sacred ground.

By age twenty-two, David personally led a sales force of over 7,300 people! At age twenty-three, he set the World-Record of sales with ITT Financial Services. Featured in 59 coliseums alongside great leaders such as Dr. Norman Vincent Peale, Mr. Cavett Robert, Earl Nightingale, Zig Ziglar, Dr. Denis Waitley and the legendary Paul Harvey, David has trained over two million, six hundred thousand people who have opened their minds to learn his proven sales techniques. To date, he has traveled over 8 million miles and spoken at over eight thousand events.
David is known primarily for his "How to Ask Your Way to Success" soft-sell methods, which are effective for every learning medium: auditory, visual, written and relational. David's ability to embrace technology has opened the doors for thousands of sales force members as he leads the way with effective use of multimedia outlets. His ability to develop proven methods of utilizing instant access abilities provide yet additional ways to reach his clients.

David's newest project, Hopes, Goals & Dreams iTV has opened the door to possibilities with the strongest marketing tools to date: social media and internet television networks. We live in a day and age where access to knowledge and data is not only overwhelming, but vital because only excellent, affordable, proven products and sales techniques will be successful. Hopes, Goals, & Dreams iTV, is introducing THE ultimate marketing utility: the ability to view and purchase HGDiTV products from the convenience of their office or home. Live, on demand, and downloadable, HGDiTV provides webcast experiences as well as "take it home" formats. Hopes, Goals & Dreams iTV is blazing the trail to a totally interactive, live, scheduled, and on-demand programming for business, learning and pleasure.

The guidance and advising of this creative company is through Cooper's genuine respect and support of the vision of Fresh Well Media: to impact today's society with positive media through its many digital devices. With his enthusiastic endorsement of their concert promotion and video proficiency, David brings a whole new appreciation to the high standards for event excellence with Fresh Well Media.